Manufacturing of the Airplane Parts
Goshukinzoku is a precise machined parts supplier for aerospace component parts as a master of machining center, 5AXIS and CNC lathe.
Goshukinzoku is a leading Japanese subcontractor of precise machining for the aerospace industry.
Goshukinzoku supplies parts for Mitsubishi Regional Jet (MRJ), Airbus A380, General Electric's Passport 20 and CF34 engines, and gears. We also supply components for hydraulic cylinders and precise power transmission devices.
Goshukinzoku strengths has advanced technology in dimensions management and high precision drilling hole, good facing.
We would be happy to provide you with letters of recommendation from these companies, attesting to the quality of our products.
Goshukinzoku's policy is "quality first" and we work hard to provide services and products that meet our customers' expectations and requirements.
Goshukinzoku has AS 9100 certification.

---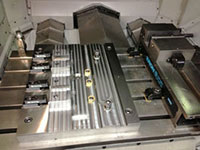 We promise quick and smart procedure for your high level requirement inquiry through mass production.
Contact us freely. sales@goshukinzoku.co.jp
---